Caring for collections of trees and special plants within a historic garden is a major responsibility.
The money we raise is vital to maintaining Bute Park for future generations.
If you would like to help us care for Bute Park via a donation your contribution will be greatly appreciated and used wisely.
For information on donating a bench or tree in other Cardiff parks visit Outdoor Cardiff.
Donated Seat Scheme
A donated seat is the perfect way to celebrate a loved one, commemorate a milestone or even as a wedding gift. This can include a plaque to record your cherished moments.
With benches and seats located all over the park we have many locations to choose from.
The Donated Seat Scheme is currently open.
The following documents contain all the information and an application form:
• Bute Park Donated Seat Scheme T+C
• Bute Park Donated Seat Scheme Application
Or for more information please contact us.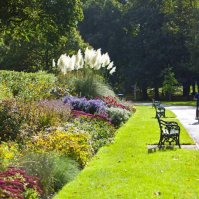 Trees
Donating a tree is a wonderful way to keep your memories alive or commemorate an event within a stunning natural setting. The tree can be enjoyed regularly by family and friends and appreciated by the thousands of park visitors each year.
Commemorate a loved one or a special event by dedicating a tree in the arboretum.
The 2023 scheme has not opened yet, for a booking form and prices please contact us.