First published 24th Mar, 2020
Cardiff's parks will remain open at this time. We understand the role they can play in aiding well being through the outbreak.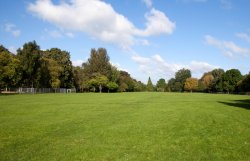 However, we are urging everyone who visits our parks to practice social distancing. This is vital if we are to slow or halt the person-to-person transmission of COVID-19.
If social distancing rules are not followed in our parks then we may have to review this position and they could then be closed to the public.
We therefore strongly urge people to avoid any large gatherings, and observe social distancing, so that parks can remain open.
Coronavirus – Guidance on access to green spaces
Guidance on using green spaces and protecting yourself and others.
Published 27 March 2020 (Last updated 3 April 2020)
Please use the following guidance in order to stay safe:
stay local and use open spaces near to your home where possible – do not travel unnecessarily
you should only go outside alone or with members of your own household
keep at least 2 metres apart from anyone outside your household at all times
gatherings of more than two in parks or other public spaces have been banned and the police will enforce this
if you have a garden, make use of the space for exercise and fresh air
take hygiene precautions when you are outside, and wash your hands as soon as you are back indoors
if walking your dog in areas used by other people, you should walk your dog on a lead to ensure you can safely keep 2 metres away from others. You can find further guidance for pet owners here
Thank you for your cooperation.
The Bute Park Team
More from the Bute Blog...