First published 29th Mar, 2021
The Blackweir Sports Pitches are regularly used for cricket, football and rugby and this must be considered when being used as an event site. Rugby and football are played here in the winter season, and cricket in the summer. These are identified on the event area base plan.
Therefore there is only limited availability for event use in this location and any events hosted must not cause damage to maintained pitches or interfere with sports club bookings.
The paths adjacent to this area are not suitable for significant vehicle loading.
The event space can be used for:
Fireworks events
Community events with moderate infrastructure
Sporting tournaments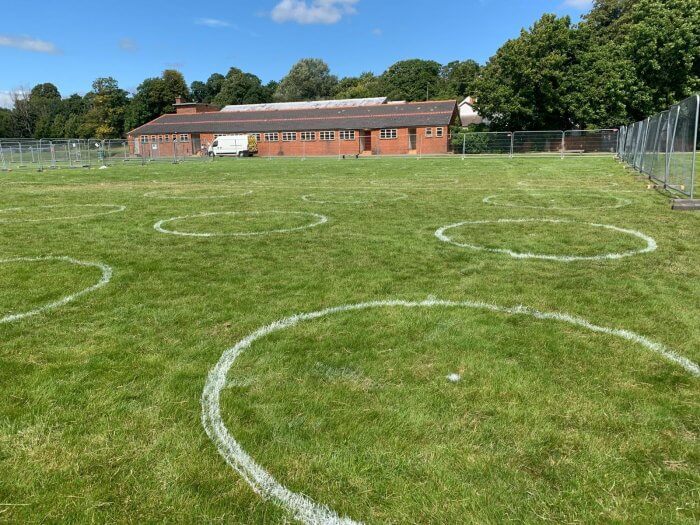 Location

Google Map
Size
21,000 sqm
Hire Fee
Hire Fee
Premises Licence

Covered by the Bute Park Premises Licence
On-site power supply

None
On-site water supply

None
Sewerage
None
Toilets
Blackweir Changing room facilities can be made available for staff and volunteers and for small events.
By arrangement in advance.
Charges apply.
Phone/ISDN lines

None
Data Connection
None
Other Considerations
| | |
| --- | --- |
| Sports Pitches | This site is primarily hired out for sporting fixtures – event use is by arrangement only. |
| Neighbours | The site is adjacent to the Cardiff Ambulance Station. No access to the site is permitted via the ambulance station. |
Conflicts with other city centre events/venues
Before completing your event application, we would recommend that you as Event Organiser research key events in the city which may
have an impact on your event.

Large city events could affect availability of and access to your preferred venue. Events in Cardiff Castle, Principality Stadium, Sophia Gardens Cardiff (Cricket Stadium) and Cardiff City FC will particularly affect Coopers Field and Sophia Gardens. The Visit Cardiff website has a search facility which you can find out all indoor and outdoor events which are scheduled on a specific date.

If your event is likely to generate significant crowds, noise or disruption it would also be courteous for you to notify adjacent venue and local
residents including the and newly developed offices and residences on Cathedral Rd.
– Blackweir Ambulance Station
– Blackweir cottages
Access to site
Pedestrian Access
The closest park entrances to this site are:
– Blackweir Cottages (from North Road carpark – not suitable for large numbers)
– Blackweir Bridge (from the north)
– Fisher's Bridge (from the Royal Welsh College of Music and Drama, east)
– Millennium Bridge (from Sophia Gardens, west)
Vehicle/Load
Restrictions
Vehicle access into the site is via the vehicle bridge off North Rd, located opposite Corbett Rd. The vehicle bridge has a weight limit of 40 tonnes.

The vehicle bridge narrows to a single lane as it crosses the Dock Feeder Canal so traffic entering and exiting must be carefully managed, making use of passing bays along the main event service road to the south.

The vehicle bridge has an automatic bollard in operation to prevent unauthorised entry of vehicles in to Bute Park. You may therefore need to request loan of a set of 'swipe cards' so you can manage traffic in relation to your event. This request can be included on your application form. Please see for guidance on safe use of the bollard control system.

Stewards/ banksmen will be essential to safely manage your traffic. These should be in radio contact with each other and following strict procedures to protect the fabric of the park and other park users.

There is very limited space in which event vehicles can be turned and unloaded. Operations should be planned and
coordinated to ensure that event traffic on site is limited. Failure to do this may unnecessarily damage the grass and
leave you liable for reinstatement costs.

Protective aluminium or plastic trackway must be used for access onto the grass for vehicles with a payload exceeding five tonnes.

Ground protection (track mats, pedestrian barriers or iron bars/hazard tape) should be deployed in vulnerable areas to prevent damage caused by event vehicles over running the paths.

There are certain 'no go' areas adjacent to the event site and these must be physically protected from potential
damage from your event, see site plan for guidance [champion tree, tree canopies generally, cricket squares etc]

Bute Park holds a stock of 'event mode' signage to help manage event traffic when volumes are significant.
Advice for risk assessment and CDM planning
There is an automatic bollard control system at the Bute Park Vehicle Access Bridge. A guidance note is available on its safe operation.
There is a 5 mph vehicle speed limit within the park.
Vehicles cannot make a right hand turn into or out of the park at the vehicle bridge.
A designated cycle route crosses the vehicle access bridge at the entrance to the park – this impacts on vehicle right-of-way when entering and exiting the park. Event organisers should consider the benefit of additional traffic management staff to support vehicles entering and exiting the park across the designated cycle route.
A designated cycle route crosses the park between the Royal Welsh College of Music & Drama and the Millennium Footbridge, this crosses the main vehicle access to the park.
The park can be busy. It is used by pedestrians, cyclists and other operational vehicles. These may share paths and roads with my event audience and vehicles.
Some cyclists are known to exceed the speed limit and can be a hazard to event traffic.
In wet weather the ground can get very soft and water may stand on the surface of roads and grass.
The park is locked at night (approx. 30 minutes before sunset) though people are known to choose to get locked in or come in after locking via unofficial routes.
There is the potential for crime and anti-social behaviour as may be expected in any city-centre park.
The park is unlit and very dark after sunset.
The wider park outside the event site is patrolled by a ranger service within daylight hours. They wear a red uniform and are based out of the Visitor Centre Building located in the centre of the park. The rangers work to a rota system but there are times when there are no rangers on duty. If you need to contact a ranger, the call should go via the Park Manager in the first instance.
Crimes, emergencies or incidents witnessed in the wider park by event staff should be called directly to 999, 101 (non-emergency police number) or the Park Management office 02920 873720 depending on their nature.
There are regularly used sports pitches within this event site. These are identified on the event area base plan. You should take care to avoid the areas marked as the cricket squares.
Should you require any of the football goals or rugby posts to be removed for your event this must be arranged with the Park Management in good time.
You must notify and seek permission from the Park Management office to break any ground.
There are no existing welfare facilities on site for event staff. Toilets located at park cafes are only available for light use by event staff/participants.
Blackweir Changing room facilities can be made available for staff and volunteers and for small events – by arrangement in advance.
The site is adjacent to the Cardiff Ambulance Station. No access to the site is permitted via the ambulance station.
Participants should be discouraged from entering your event site directly via the ambulance station – they should be directed from the carpark through the entrance past Blackweir Cottages and from the park.
The site is the alternative landing site for emergency services Wales Air Ambulance helicopter and military helicopters. Please notify the HEMS Desk of your event dates via 0300 1232301.
All event guidance