First published 27th Jan, 2022
Bute Park hosted a tree planting ceremony on 26th January 2022.
Twenty trees were donated in response to the vandalism and several thousand pounds worth of damage caused to trees, planters, stonework, manhole covers and infrastructure in September last year.
Japanese cherry trees, or 'sakura', were gifted as part of The Sakura Cherry Tree Project, which celebrates 150 years of friendship between Wales and Japan. They will form a new avenue of cherry blossom trees in the park when in full bloom.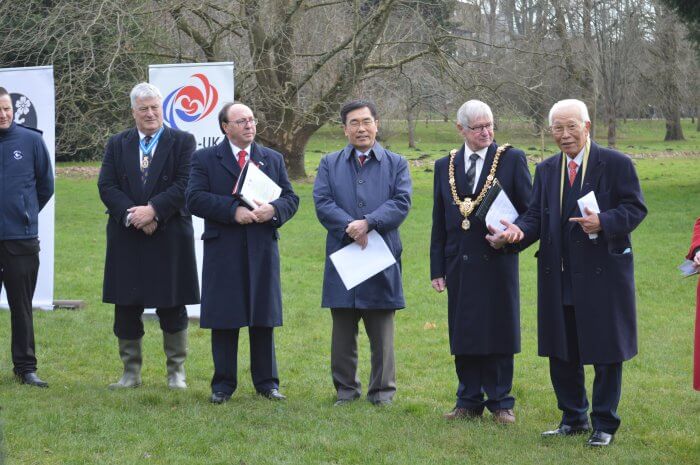 The Rt. Hon The Lord Mayor of Cardiff, Councillor Rod McKerlich hosted the events and was joined by Her Majesty's Lord Lieutenant of South Glamorgan, Mrs. Morfudd Meredith, Mr. Keisaku Sandy Sano, Joint Chairman/Founder of the Sakura Cherry Tree Project Minister Takeshi Ito from the Japanese Embassy in the UK and Cabinet Member for Culture, Leisure & Parks Councillor Peter Bradbury.
Guests also included Lady Victoria Borwick, Deputy Chairman of the Sakura Cherry Tree Project; Mr Keith Dunn OBE, Honorary Consul for Japan in Wales, Mr Peter Dewey, High Sherriff of South Glamorgan and Jenny Rathbone, Labour Member of the Senedd.
Pupils from Ysgol Mynydd Bychan, presented the ceremonial shovels to delegates and helped with the tree planting.
Local councillors, members of the Japanese community in Cardiff and staff from the Parks Department also attended.
The Rt. Hon. Lord Mayor of Cardiff, Cllr Rod McKerlich, said: "It's a real honour for Cardiff to be chosen to host so many of these beautiful cherry trees which I understand will blossom well into the 22nd century as a long-lasting symbol of the mutual understanding between our two nations."
Cabinet Member for Culture and Leisure, Cllr Peter Bradbury, said: "It's an absolute pleasure to be part of this celebration of friendship and co-operation between Wales and Japan. Thanks to all our guests who have made this a very special occasion.
"It's been great to see the local primary schools involved in planting the trees which will continue to bloom for future generations
"Over this year's planting season, over 16,000 trees will be planted across Cardiff and I'm delighted that these beautiful cherry trees will contribute to our aim of increasing the tree canopy in our city and provide a striking feature for us now and for many years to come."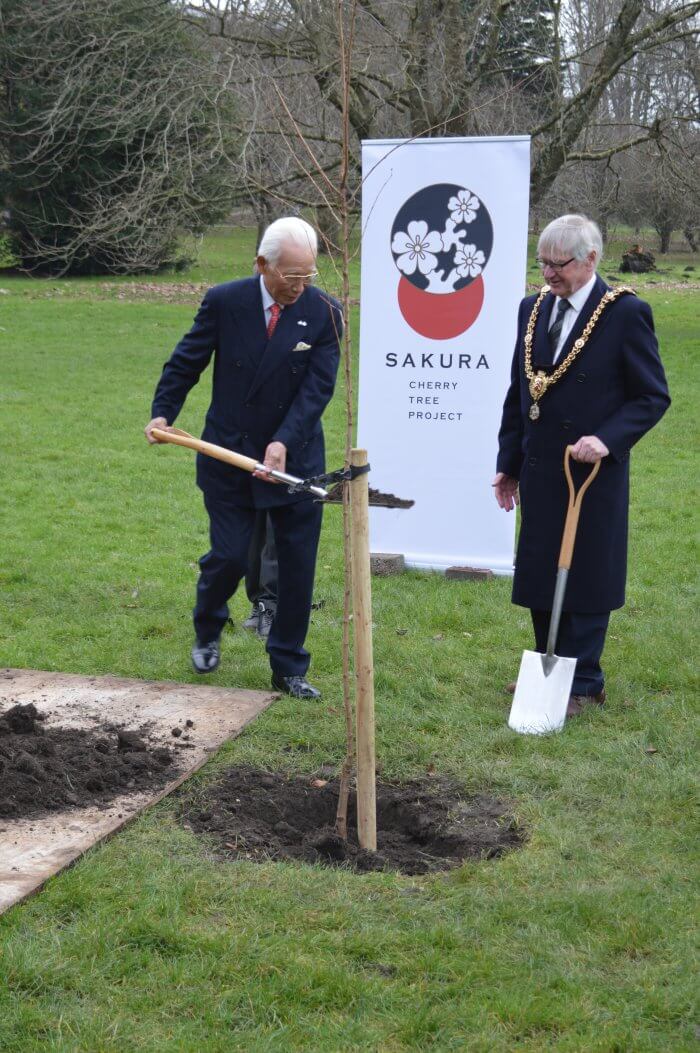 Honorary Consul for Japan in Wales, Keith Dunn, OBE, said "Wales and Japan have a strong relationship developed over more than 100 years. At the heart of the relationship is a desire for mutual understanding and to learn from each other's way of life, culture and history.
"These trees to be planted here in Cardiff are a strong symbol of our friendship that can be enjoyed by future generations. I hope these plantings, particularly at this current time, will be embraced by our communities for the future."
Founder and Joint Chairman of the Sakura Cherry Tree Project Team, Mr Keisaku Sandy Sano, said "The response we have had from the Cardiff and all across Wales, has been amazing. It is testament to the strong relationship between our countries, and we hope the trees will be a lasting tribute to that.
"Many Japanese corporations have decided to, through the Japan-British Society, generously donate to this project. I am deeply grateful for all the efforts and support given by people and corporations both in Japan and the UK to this project."
The Sakura Cherry Tree Project is represented in Japan by the Japan British Society, whose main role is to raise funds for the project, and in the UK by a special committee convened by the Japan Matsuri Company (an organisation jointly managed by the Japanese Association, the Japanese Chamber of Commerce and Industry in the UK, the Japan Society London and the Nippon Club).
More information about the Sakura Cherry Tree Project can be found here: https://japanuksakura.org/
The events were conducted outdoors in line with current Welsh Government COVID-19 guidance. Once planted, the new trees will be surrounded by protective guards to protect them from vandalism whilst they establish.
More from the Bute Blog...