The Charter for Trees, Woods and People sets out the principles for a society in which people and trees can stand stronger together. The Tree Charter was launched in Lincoln Castle on 6 November 2017; the 800th anniversary of the 1217 Charter of the Forest. The Tree Charter is rooted in more than 60,000 'tree stories' gathered from people of all backgrounds across the UK.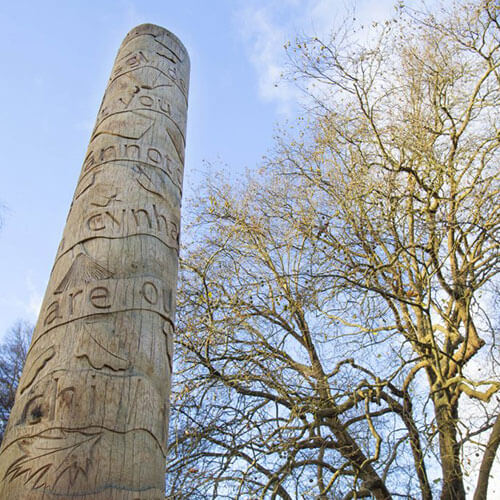 11 Tree Charter poles were crafted from Grown in Britain oak from the Crown Estate, carved by artist Simon Clements at the Sylva Wood Centre in Abingdon.
Locations of the Tree Charter Principle Poles:
Lincoln Castle (Tree Charter Champion pole)
Alder Hey Children's Hospital, Liverpool – Health & wellbeing
Bute Park, Cardiff – Art & heritage
Belvoir Wood, Belfast – Planning
Lang Craigs, Dumbarton – Coping with threats
Grizedale Forest, Lake District – Environment / strengthening landscapes
Sherwood Forest, Nottingham – Protection
Manchester City Forest Park – People & access to trees
Pound Farm, Suffolk – Nature
Sylva Wood Centre, Abingdon – Utility & livelihoods
Low Burnhall, Durham – Planting
National Tree Charter Day
Tree Charter Day will fall annually in National Tree Week, the Tree Council's annual celebration of trees that marks the start of winter tree planting season. Local communities, schools, organisations and individuals celebrate with activities and events that celebrate and reinvigorate the relationship between people and trees.