Given the fast changing situation with COVID19 please check the event organisers websites for the latest information regarding specific events.
Please contact the event organiser directly for ticketing and further information.
Step into the light
"Christmas at Bute Park" is the biggest festive light trail Wales has ever seen. From late November the The multi-award winning festival of light is back for 2022 and is set to shine brighter than ever! With a host of new installations, including a 'hypnotic laser journey' and an 'epic orb of iridescent colour', this year's light trail is going to dazzle visitors once more.
After a sellout first year, Christmas at Bute Park will be open from November 24th 2022 – 8th January 2023. Visitors of all ages will once again be able to soak up the magic, as the park is taken over by a stunning array of festive lasers, neon trees and flame-lit light installations.
The 1.4KM route will also take in delicious, locally produced street food & drink stalls too. Visitors will have the option to visit during a number of different time slots running each night & the event is fully accessible to those with wheelchairs and prams, aiming to offer an inclusive celebration of Christmas for all the family.
For more information on Christmas at Bute Park & how to book tickets, visit christmasatbutepark.com
Please contact the event organisers directly for help via email: hello@christmasatbutepark.com / https://supportcentre.seetickets.com/?Website=christmas_at_bute_park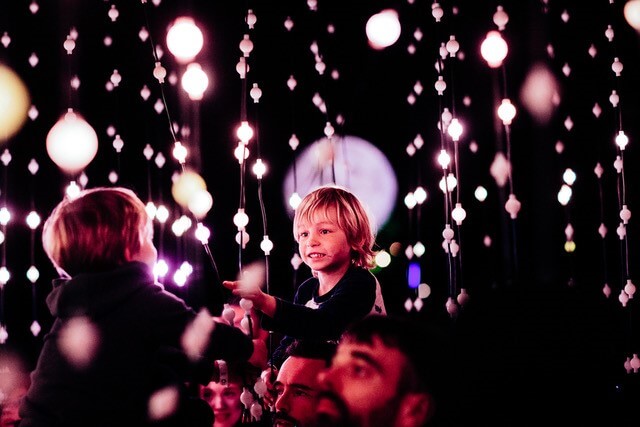 Open with Changes – EVENT SET UP / TAKE DOWN PERIODS
We are pleased to say that hosting the Christmas at Bute Park trail has limited impact on normal public access to the park. Visitors to Bute Park can enjoy the site in the normal way during daylight hours throughout our hire period.
Bute Park is locked 30 minutes before dusk throughout the year, and for the period of the trail, the normal park locking time is 3:45pm. However, a section of the park will be closed off slightly earlier so it can be prepared for re-opening to trail ticket holders.
An evening-only cycle and "active travel" diversion is in place whilst the trail is in operation. This maintains what is an important route across the city centre. As park visitors will know, the east-west designated commuter route ordinarily stays open, even after park locking, to provide a useful route for active travellers. We are pleased to have been able to maintain this popular route by implementing the diversion. In daylight hours, when the park is open as normal we advise the usual path is used for people's convenience.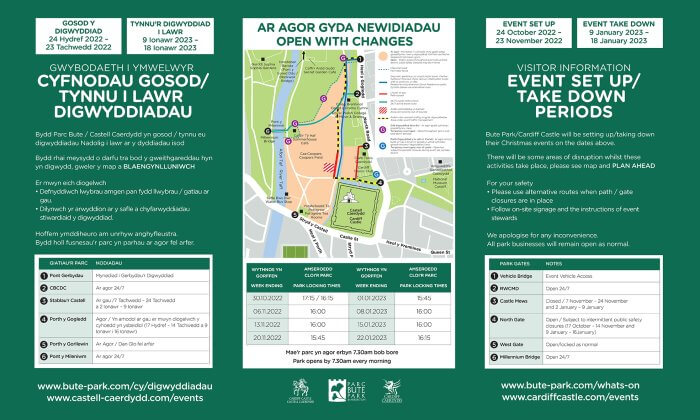 Open with Changes – WINTER EVENTS IN OPERATION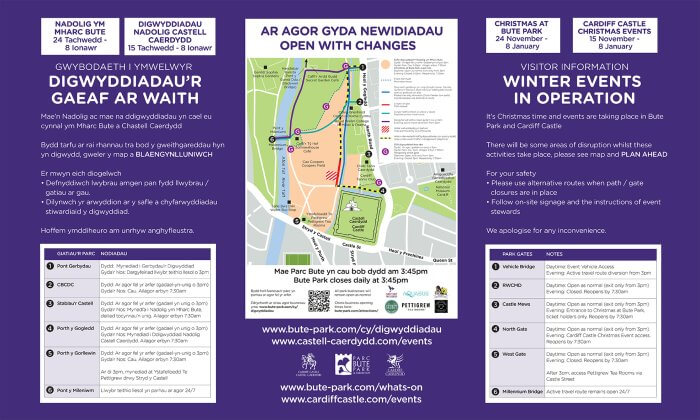 Visit the event website
Buy tickets online