First published 12th Jun, 2020
Last week, Ken, one of our colleagues from the cleansing team, went viral asking people to take their litter home.
We caught up with him to find out why it bugs him so much…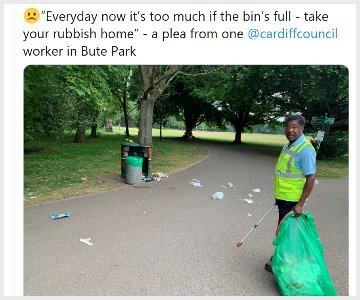 Ken says, "Most people are fine (with their rubbish), but there has been a huge increase in litter since the beginning of lockdown. There are obviously so many people off work so it's not a normal day for anyone anymore".
"With more people heading to the parks for daily exercise or social distanced meet-ups, we are cleaning litter from the parks every day, whereas before we could do them once a week."
"We're finding BBQs, still alight, burning out the bins, which is so dangerous and it's costly to replace the bins."
"BBQs in public spaces aren't advised by the Government, but our advice pre-lockdown was that they should be left on the concrete, near to bins for collection. They shouldn't be left on the grass or placed inside bins as this is a fire hazard."
"There are lots of bottles, cans and picnics that are littered around the parks. We carefully check there's no broken glass, no broken play or gym equipment as some people are still using these. Please follow government guidelines and don't use this equipment at all."
"There are so many dirty nappies being dumped. We have a hygiene service that residents can sign up for. You then get your nappies collected weekly. One week in yellow bags, and another week in general waste. Please, take them home."
Ken continues, "A big thank you to Cardiff Rivers Group and Keep Wales Tidy, without them we couldn't cope. Most of my team mates are working alone due to social distancing rules and we couldn't cope without the help of these volunteers".
"I love my job, I love to look back at the clean park and think "Wow, I did that, it's clean". I'm proud to help keep Cardiff tidy. I'm just asking for people to be considerate and help us. The more people can do to help us, the better."
"We're all in this together."
Thank you so much to Ken, all the cleansing team and our volunteers working so hard to keep our public spaces litter free.
Please remember to take your litter home with you or dispose of it correctly. You could face a fine of £100 for littering. Find out more here.
More from the Bute Blog...