First published 20th Dec, 2019
Bute Park Education Centre has been awarded a Green Key, joining a list of Wales's most environmentally sustainable tourism destinations.
The council owned Education and Training Centre, and the walled garden surrounding it, also houses the Secret Garden Café and a social enterprise, The Cardiff Salad Garden. The three occupants work closely together to create a sustainable hub at the heart of the park that even utilises the waste created at the centre.
Shredded paper and food waste created by the café and the team based at the centre is fed into a wormery to create compost and liquid fertiliser. The compost and fertiliser are then donated to the Salad Garden and used to help grow a variety of salad leaves. These salad leaves are then delivered to the Secret Garden Café (and other local restaurants) creating a closed loop.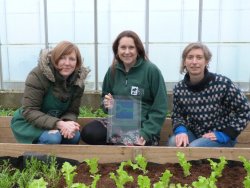 A council spokesman said: "Green Key is the world's largest eco-label, awarded to more than 3,200 tourism providers, from boutique hotels to campsites, B&Bs, attractions and now the Education Centre in one of Cardiff's best loved parks."
"Bute Park already holds a Green Dragon Level 4 award and is one of the city's 12 Green Flag sites – with a Green Key to add to this already impressive collection, the park is really living up to its green heart of the city moniker."
The Green Key initiative is run by the Foundation for Environmental Education and managed in Wales by the environmental charity Keep Wales Tidy, who also manage the Blue Flag and Eco Schools programmes.
Green Key Co-ordinator, Nick Ashby, said: "We'd like to congratulate the Bute Park Education Centre on their success in gaining the international Green Key award for their fantastic meeting facilities. It's great to see that sustainability is firmly at the heart of everything they do. It shows that you can reduce the environmental impact of meetings, conferences and events without compromising on quality."
The Education Centre is open as a visitor information point 7 days a week and has 2 meeting rooms that can be hired for meetings, workshops and small conferences.
More from the Bute Blog...