First published 16th Apr, 2020
Bute Park has approx. 25 track mats and 2 rolls of grass reinforcement mesh.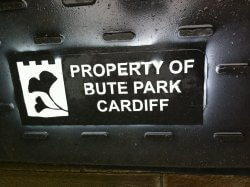 Track mats are 2.44 m by 1.22 m (8 ft by 4 ft)
The mats and rolls are stored within the Bute Park Visitor Centre in a secure compound area.
The mats and rolls are light enough for two people to 'hand ball' them into a lorry or flat bed and take to site.
The mats are available for hire by Event Organisers at a rate of £10 per mat, per week + VAT [Cost price over £80 + VAT]
Your Site Supervisor can help you with collection and delivery if required.
If you wish to hire the mats discuss in good time with the Bute Park Event Officer, they are allocated on a first come first served basis.
See Care of Ground in Cardiff Parks
See Ground Protection
All event guidance