The Dock Feeder Canal runs along the eastern boundary of Bute Park from Blackweir at the north end, south to the Castle, where it turns east, and runs along the north side of the Castle to leave the park. It then passes under North Road and along the south edge of Cathays Park, until it is culverted upon reaching Park Place, and it finally emerges at the southern end of Churchill Way.
It was created in the 1830s, in connection with the construction of the West Bute Dock. The function of the Feeder Canal was to provide a constant supply of fresh water to the dock to keep the entrance channel clear.
During the Bute Park restoration project improvement works to the feeder included installing several sets of doggy steps for easy access. For more history on the Dock Feeder visit the Cardiff Parks and History Points websites.
Take a look further downstream in this article or take a trip inside the canal with Will Millard.
Here you'll find Kingfishers and young ducklings. Between May and August look out for banded demoiselle damselflies along the edge of the feeder. The males are metallic blue and the females are metallic green.
Standing on the playing fields at Blackweir you can track the route of the canal through the woodland and behind the field by following the line of large purple Rhododendrons and azaleas bushes.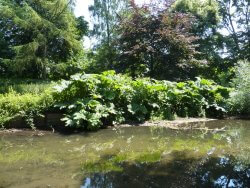 The 'giant rhubarb' you can see on the banks of the Dock Feeder in spring are Gunnera. They are one of the biggest and most spectacular, architectural, herbaceous plants. The plants need a lot of space because it is difficult to restrict their size. They enjoy the damp and boggy conditions the canal provides. check the reflections in the water to see the prickly undersides of the leaves.