Given the fast changing situation with COVID19 please check the event organisers websites for the latest information regarding specific events.
Please contact the event organiser directly for ticketing and further information.
The City Hospice Dog Walk is back!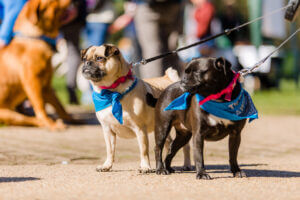 We're delighted to announce the return of our Wag this Way event which takes place on Sunday 26th March in Bute Park, Cardiff. Our 5km sponsored walk starts at 11am, you will have the opportunity to walk through the beautiful surroundings of Bute Park with your furiends!
Registration fee includes a doggy bandanna and on completion of the 5k walk, you'll be greeted with a goody bag courtesy of Burns Pet Food Nutrition. Registration will open from 9.30am on the day for you to collect your participant number, a bottle of water and a T-shirt if you have ordered one.
Visit the event website
Buy tickets online
Details
26th March, 2023 - 26th March, 2023 11:00 am - 4:00 pm
Location
Bute Park Directions