First published 9th Dec, 2019
The Bute Park Plant Shop has closed for winter but a selection of plants are available daily from the Education Centre, next to the Secret Garden Café.
Call in and see the team for plants and jars of honey from the Bute Park Bees which are the perfect local Christmas gifts!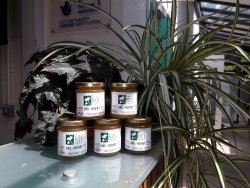 Plant Shop and Sales
Plants are available every day from the Education Centre, the centre is open 12pm – 3pm.
Daily trolley sales: If you're in the park look out for our display next to the Summerhouse Café which stocks a small selection of the plants we have in the shop, if you'd like to buy something, just pop the money in the honesty box!
Find our team at these Christmas and Farmers markets:
Kings Road Studio on the 1st and 22nd Dec
Penarth Farmers Market on the 21st Dec
Plants of the month
Poinsettias £5.50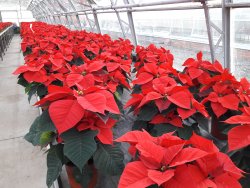 Poinsettias is a vibrant houseplant that brightens up your home at Christmas. It has bright red star-shaped leaves that are often mistaken for flowers. These 'flowers' are actually bracts, designed to help attract insects to the small flowers in the centre.
Most people picture poinsettia in red but we also grow white, pink and speckled varieties – this year we've grown just under 1,500 of these colourful festive plants, available to buy in the Education Centre.
Poinsettias are native to Mexico! To keep them in good condition through Christmas and beyond:
place them out of draughts at room temperature
place in a well-lit spot but out of direct sunlight
allow them to dry out slightly before watering and keep moist but not saturated
Indoor Cyclamen £3.00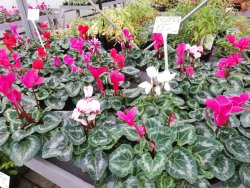 Cyclamen in shades of white, red, pink and purple will give added colour to the seasonal display. Favouring a much cooler room, they will reward with colourful blooms right through until spring.
Hyacinths £3.00
For scent at Christmas, hyacinths are well worth a try in colours of pink, blue and white, again ideal in a cool room, porch or conservatory.
Coming Soon:
Although summer seems a million miles away we're already gearing up for next year.  The summer bedding requests are sent through to us from the parks around Cardiff and plants, compost and pots are ordered in preparation for starting again next year!
Other News:
Last week we welcomed 3 new volunteers and 2 Erasmus students from Italy and Sweden.  The team have been a big help getting stock ready for Christmas sales, been out taking cuttings in the parks of Cardiff and helping get the nursery cleaned up after a very busy year! Find out more about volunteering in the park!
Merry Christmas Chay and the Team
More from the Bute Blog...