As a volunteer, you will make an important contribution to Bute Park.
We offer a range of opportunities so you can get involved in all sorts of projects.
Interested? Send us an email butepark@cardiff.gov.uk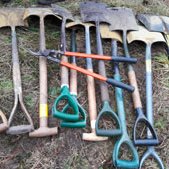 Practical Conservation sessions
Join the Bute Park Ranger and assist with conservation tasks in the park.
Tasks include:
Clearing paths
Cutting back overgrowing brambles
Litter-picking
Hay-raking
Bulb planting
cleaning signs and posts
Pruning
Contact us to book via butepark@cardiff.gov.uk
We meet weekly on Tuesdays (2pm – 4pm) and on the second Saturday of every month (1.30pm – 3.30pm).
Wear sensible footwear and bring gloves if you have them. All tools and equipment will be supplied.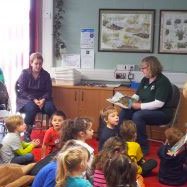 Education Event Volunteers
Education volunteers assist the Education Officer with school/group visits and family events at the Visitor Centre and in the park. Activities include mini beast hunts, orienteering and outdoor learning. As a volunteer you will:
Help to prepare activities and tidy up after events
Assist children and parents/carers during events,
Take photographs with permission
Learn new skills
Welsh language skills desirable.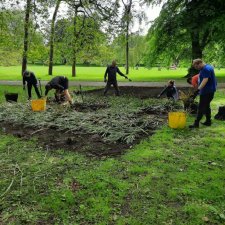 Wednesday Gardening Sessions - weekly
The sessions are from 9.30am-11.30am on a Wednesday morning with the gardening team. Activities include:
weeding the shrub beds
planting bulbs
plants in the beds
General gardening duties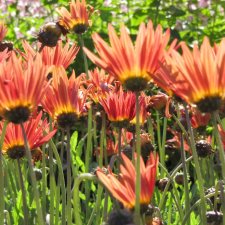 Nature Spotter Volunteers
Volunteers spend time when convenient to them to Bute Park looking for flora and fauna and photographing them.
The volunteer identifies the creature and uploads the data for recording on the seek app. The volunteer writes a couple of sentences or facts about the creature and then sends them to the Educational Officer.
These are featured on facebook - 'Noticing nature in Bute Park.'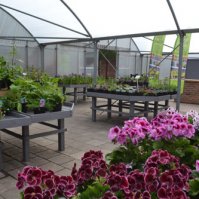 Bute Park Nursery Volunteers
Bute Park Nursery volunteers will be interested in horticulture. They help with planting and shrub preparation. This involves assisting the nursery staff with:
Weeding
Planting up seedling
Watering
General nursery duties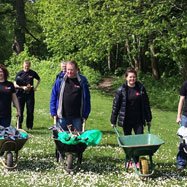 Corporate Groups and Corporate Social Responsibility targets
Contact us if you are looking for opportunities for your company. We regularly work with volunteers from a number of organisations.
We can help you organise opportunities to meet your Corporate Social Responsibility targets including:
Conservation tasks
Litter picking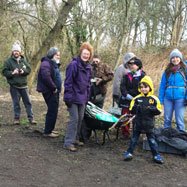 Litter picks and other volunteering groups
If you are planning to litter pick or visit the park as a group or organisation, please contact the Bute Park team beforehand.
We need to know when you are coming to the park and that your volunteering does not clash with any other events at the park.
We will need to ensure that the group has adequate risk assessments in place and public liability insurance.
If you are interested in other litter picking events around Cardiff visit Keep Cardiff Tidy.